Computer Repair in Huntington Beach, CA
Working with computers since 1979. The PC Computer Doctor has provided hardware and software troubleshooting and repairs for customers throughout Orange County, CA. We're the experts to call with any questions about your computer—from startup trouble to virus eradication, network errors to hardware upgrades and beyond.
Schedule an appointment today!
Your Complete Computer, Laptop and PC Repair Experts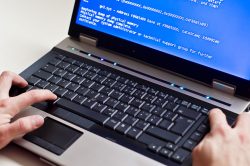 Dealing with a broken or malfunctioning computer in today's day and age is more than just a headache—it can profoundly impact your day-to-day life. The PC Computer Doctor delivers comprehensive computer repair in Huntington Beach and throughout Orange County, CA, to make sure your computing troubles are short-lived. From virus and malware eradication, to hardware upgrades, to system refreshes and updates, our knowledgeable professionals give your tech what it needs to function at the level you expect it to. Thanks to creative problem solving and years of firsthand experience, few problems elude us—we deliver solutions that are tailored for your unique machine and situation, and we are mobile coming to you. No need to unplug all those wires and worry about explaining the problem to someone who has no clue what you are saying.
Our top-down approach to desktop and laptop repair in Huntington Beach, CA ensures no problem is left unchecked. We go beyond the bigger issues to determine what caused them, and repair everything to ensure it doesn't happen again. We'll remove the smallest viruses, get rid of corrupted files, clean up your system and more, all with the intent on helping your computer run faster, with peak performance. Even beyond the computer itself, we're your trusted experts. Call us for help connecting printers, monitors, hard drives and more—even network configuration and wireless setup! Take a look at just a few more reasons we're the go-to computer repair experts in the area for both hardware and software troubles:
Hassle-Free Diagnostics

Not sure what's wrong with your computer? Schedule an appointment with us today for a free evaluation and insight into our restorative services. We welcome hardware and software issues!

Providing PC and laptop repair to these Orange County areas:

Huntington Beach, CA
Costa Mesa, CA
Fountain Valley, CA
Newport Beach, CA
Seal Beach, CA
Westminster, CA
Orange County, CA